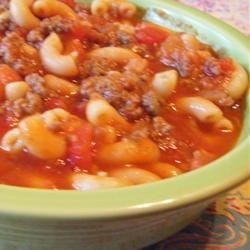 In honor of Halloween, here is a recipe for you. "Ghoul-ash" if you will.
I tried this last night because it sounded fun, and we had all the ingredients on hand. It was delish, and will be showing up in regular rotation for din-din.
I did make a few minor adjustments, and I only made half the recipe in case we didn't care for it.
I added a yellow pepper to it instead of stewed tomatoes.We don't care for tomatoes, and we had the pepper on hand. If I would have had a green pepper, I would have used that. I did use a half can of seasoned tomato sauce instead of the stewed tomatoes.
I cooked the onion and garlic in with the beef. I also used Lawry's as the seasoned salt.
I switched out the soy sauce for worchester sauce, as I prefer that taste for a dish like this.
Goulash
{all recipes website}